Boys' Basketball: The first State championship, 50 years ago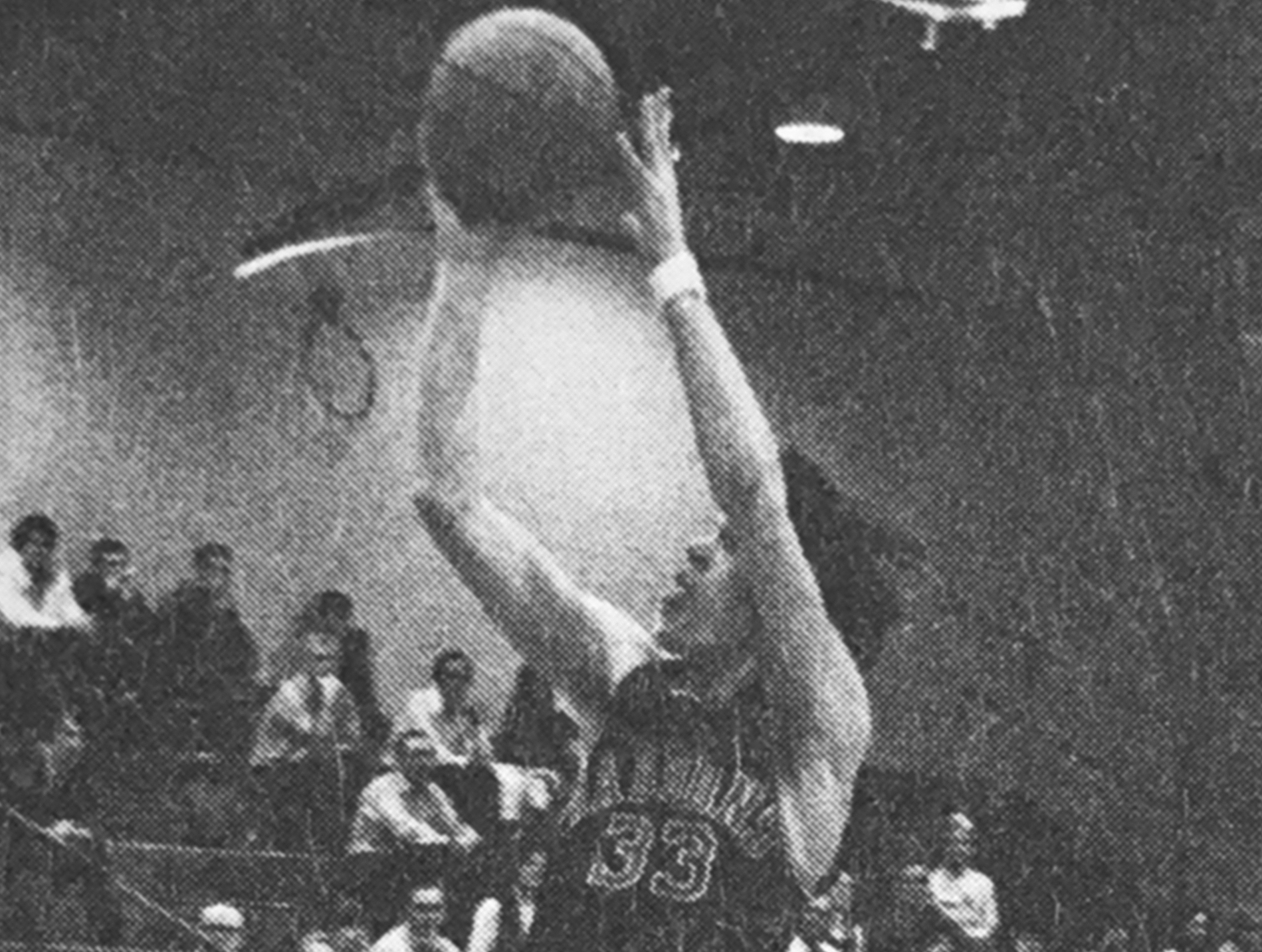 By Lauree Padgett / Exclusive to Haddonfield[dot]Today
Photo [1973 Yearbook]: Senior Chris Whitten elevates for a shot.
Against All Odds
On March 31, 1991, the NCAA Men's Basketball Tournament Final Four took place in the Hoosier Dome in Indianapolis. In the first game, the Kansas Jayhawks knocked off the Tarheels of North Carolina. The second game pitted the Duke Blue Devils of North Carolina against the Runnin' Rebels of Nevada–Las Vegas. The Rebels had not lost a game all season and were looking to become the first team since UCLA, under the legendary coaching of John Wooden, to win back-to-back NCAA titles. Beating Duke seemed a given, especially since Nevada–Las Vegas had humiliated Duke 103–73 the previous year en "rout" to the championship. No one, from broadcasters to sports writers, coaches to fans, thought the Devils had a chance in, well, hell, of upsetting the Runnin' Rebels. Except they did, upending them 79–77 on foul shots made in the final seconds by junior Christian Laettner. Duke would go on to beat Kansas for its first national championship ever.
Eighteen years before that game, in March 1973, and on a slightly smaller stage, the Group 1 Boys Basketball Championship was set to tipoff at Princeton University's Jadwin Gym with Orange High School taking on Haddonfield Memorial. While the Orange's basketball team wasn't undefeated—they had, like Haddonfield, lost two games, and their 25 wins were two fewer than their opponents—they might as well have been. That's why no one "in the know" was giving Haddonfield a fighting chance against them. According to Dave Wiedeman, who was finishing up his second year as Haddonfield's head coach, his counterpart, Orange coach Cliff Blake, was so certain his team would triumph, he didn't even scout the opposition. In retrospect, that may not have been a smart move …
Practice Pays Off
Before we look at that St. Patrick's Day game, let's see how the season developed through the eyes and memories of Coach Wiedeman and of four of Haddonfield's starting players: Kevin Eastman, Chris Whitten, and Kirby Wood, who were seniors, and Tom Betley, who was a junior. Wiedeman and I talked on the phone; Eastman and Whitten responded to email questions. Wood and Betley provided email responses as well as additional comments in-person and via Facebook Messenger.
Neither the coach nor his players were expecting Haddonfield to reach the heights it did in the 1972–73 season with only one starter, Eastman, returning. Wood, who had been the 6th man (the first one off the bench) the previous year, played the wing, or second guard, as a senior. He assessed the situation this way: "Kevin was the only returning starter. I was excited to get to be a starter and contribute. We knew we had one of the best players in South Jersey, so we just needed to establish our roles."
Eastman defined himself as "a multi-positional player being used as a ball-handler when needed and also as a scorer in most games." He felt the team had the chance to be good, but said it is always hard to know how much work your opponents have put in during the off-season. "We had good skill guys, we played very hard, and we were a true team in that we all accepted, understood, and bought into the roles Dave [Wiedeman] gave us. And Dave coached in such a way that he instilled confidence in us. And that was important."
Betley, who could rotate into any of four positions as needed, concurred with Wood about the team's potential, noting, "We felt we could be pretty good because we had Kevin. Remember, four starters had graduated. But the expectations didn't grow until after we won the Pennsauken Christmas Tournament."
Since four of the team's five starters had not seen a lot of varsity action the prior season, I wanted to know how they became a cohesive unit. Whitten, who played center, commented, "As a group, we played a lot of basketball in summer leagues and pickup games every day." That recollection was echoed by the others.
Eastman recalled "all the time we spent playing and working out at the YMCA and over at the St. Rose courts [in Haddon Heights] and the Collingswood courts. We tried to show up wherever games were being played in the off-season." For Eastman, it was also a matter of playing as often as he could and then working on his skills in his backyard court every day.
For Wood, all that time spent playing together meant that by the time the season actually started, "we knew each other's tendencies and strengths." Betley pointed out, "None of the starters, plus 6th man Matt Welsh, played another sport, and we literally played 5 hours a day, every day" spring, summer, and fall.
I also wanted Wiedeman's views on how the team developed. "Defense was key, as was the advancement of Tom B. Everybody knew Kevin would be the player to guard, and Tom took pressure off, so teams couldn't stick just on [guarding] Kevin." Each player brought his own value and talent to the team. This enabled Haddonfield to progress and grow beyond just being a one-man (i.e., Eastman) team. Whitten, who manned the inside, "played smart and didn't make too many mistakes." Wood contributed "outstanding offense" while "Tommy Hare was strong on defense." Hare, who was a junior guard and the fifth starter, was not available for me to contact. Betley described Hare, a lefty, as a strong shooter who averaged 6–7 points a game. All those player skills "Added up to a team," Wiedeman told me.
Wiedeman also stressed how hard the team always played. Some of that toughness no doubt grew out of the practices Wiedeman commandeered. This is how Whitten summed up those sessions: "Coach emphasized defense and rebounding plus running, running and more running i.e., conditioning."
Wood said he always enjoyed the practices because they were "well-organized and productive. We had great scouting from Coach [Mark] Caplan." Wood said that because Wiedeman was great at preparation, his players were never caught off-guard. "We knew the opponents' personnel and their plays. Sometimes we knew their plays as well as they did."
Betley said the focus of practice was always getting ready—being prepared—for the next opponent. "The plays had adjustments, but we knew if we executed them, we would get a good shot. With Chris at 6-5, and the tallest, we really weren't a tall team, so fundamentals, like boxing out, were critical and emphasized daily."
Eastman felt that the scouting report, which could differ from game to game, influenced what the team specifically focused on. "We worked hard on defense; [Wiedeman] expected great effort and hustle, no matter the drill, and we did scrimmage five on five." The team also worked on mastering the fundamentals, as that was big for their coach.
The Road to Princeton
As Haddonfield headed into the NJSIAA tournament, they only had two losses, both to Colonial Conference rival Sterling. In the first game, Haddonfield lost by 9, 69–78; in the second game, they only fared slightly better, losing by 6, 69–75. I wanted to know how much those losses inspired them as the playoffs loomed and whether it changed the game plan at all.
Whitten acknowledged, "The losses to Sterling focused on the need to score efficiently." That focus did not change for the tournament. Betley called the Sterling defeats "upsetting, " but said that as they went into the postseason, "We played the same in the playoffs, prepared for each opponent, and respected each opponent." Wood noted, "Personally we were disappointed, but we shook it off."
Eastman had the mindset to move on to the next game, no matter the outcome. "I never really thought about Sterling as we entered into the state tournament. I was just ready and excited to play one more game and see how far we could go." Eastman also literally went limping into the tournament, far from 100%. In the great Courier Post sportswriter Don McKee's March 19, 1973, article, "Haddons Eastman: One in a Thousand," Eastman relayed why:
"'One of the bones in my right foot is sort of eaten away,' said the brilliant Haddonfield High School senior Saturday. 'It's like a trick knee. The doctor said it happens to one of 1,000 people.'
"'I really hurt it badly against Haddon Township about five weeks ago,' Eastman recalled. 'The doctor didn't want me to play until the state tournament.'"
Eastman explained to McKee that he was very upset about that prospect, but Don Casey, then the Temple men's basketball coach, took him to a doctor in Philadelphia, who had guys playing on the same type of bone condition every day. "'Coach Casey convinced my parents it would be safe enough to play.'"
As McKee wrote in that article, "Eastman kept playing when the doctor's advised rest because he's the heart and soul of Haddonfield, even with no legs at all."
Before the Haddonfield–Orange showdown, the team competed in a pair of nail-biting games. In the South Jersey Group 1 finals, they went up against Florence, and then in the state semis, took on Freehold.
"Both games were both so close," Wiedeman said. In the South Jersey final, "Florence kept holding the ball and wouldn't let us run the court/go up and down," Wiedeman recounted. "At the end of the game [with Haddonfield down by 1], I had to make a decision." That was to foul the worst Florence shooter, even though Wiedeman hated putting an opposing player on the foul line. The Florence player missed the front end of a 1+1, and Haddonfield got a basket to win, 42–41. "It felt very good to get out of there," Wiedeman admitted.
The state semifinal game versus Freehold ended up going down to the wire as well. This time, Haddonfield escaped with a 2-point, 47–45 victory.
Toughness Nets a Championship
None of the three articles I was able to reference about the Orange–Haddonfield game gave much of a play-by-play recap. But apparently, it was pretty much decided within the first 8 minutes thanks to Orange coach Cliff Blake sticking to a 3-1-1 press even when it was clear it wasn't working. "We would beat the first 3, Kevin or Betley kept being fouled and making layups," is how Wiedeman described it. Betley, in fact, would be 15–16 from the foul line and finish with 27 points. That Haddonfield was able to stay out of foul trouble was important: "We weren't too deep," Wiedeman conceded. That was a bit of an understatement. Except for Haddonfield's five starters, only Welsh came in off the bench to collect two rebounds.
Wiedeman's former players had their ideas as to what proved to be the turning point in the game, and along with their coach, they all centered on how Orange chose to both defend the basket and create their offense. "The turning point was the ease of breaking their full court press," Whitten said. "The game seemed to be over fast."
Wood added, "When we scouted them and found they used a full-court press to create their offense, coach put together a strategy to break the press. We practiced it for several days against our reserves. 7 on the press versus our starting 5. We ended up destroying their press and blowing up their year-long winning strategy."
Betley also gave a nod to the pregame practice that emphasized playing against their press that had them going "7 on 5 on a smaller Haddonfield court, so when we got to Princeton, we were ready. [It was a] bigger college court, and only five players. In truth," Betley stated, "we were more prepared than them."
I can even include Tom Hare's thoughts, thanks to a quote from the second McKee article, which I reference more specifically in the next paragraph: "'He [Wiedeman] had us ready for the press,' added guard Tom Hare. 'He told us exactly where everyone would be. We kept our turnovers down and that was a big key. We played a practically perfect game in the first half.'"
This second McKee article, titled "Betley Finds Happiness, Haddons Find Crown: 27-Point Effort Sparks State Kings," is preserved, along with the one on Eastman, in my first Haddonfield boys basketball scrapbook (there are four scrapbooks altogether, and articles and photos still to be pasted in that could probably full up four more) In this piece, Betley talked about how he struggled at times during season. "I felt I wasn't contributing a lot," he told McKee, singling out three games late in the season when he had not hit double figures in scoring.
McKee wrote: "Tom Betley's concern turned out to be unfounded. He started contributing to Haddonfield's effort in big chunks. Luckily, Betley's transformation came exactly when the Haddon's needed it most—during the tournament when an injured Eastman was no longer able to carry the team.
"Haddonfield dumped Orange 76-67 … to take the first state title in the school's long history, and without Tom Betley, there probably would be no championship."
When defining what the turning point was in his mind, Eastman also emphasized Betley's role in the state title game, crediting his other teammates as well: "I remember Tom Betley playing very well and just battling against them. He scored big, and we needed his points that game. I remember Kirby and Tom Hare working against [the Orange] pressure, as they were quick and pressed all the time. Chris kept banging and battling as well. We did not back down."
From the box score, I can provide some player stats. Eastman, hobbled as he was, scored 23, meaning he and Betley accounted for 50 of Haddonfield's 76 points. Betley also pulled down 14 rebounds. Whitten was 3 for 3 from the field and got nine rebounds. Wood also grabbed nine rebounds and contributed 12 points. Hare finished with 8 points and three boards.
Speaking of not backing down, Eastman, hampered by his "trick foot and banged up knees," as McKee worded it, "managed to get stepped on by 6-5, 220-pound Orange center Bill Johnson" in the first quarter. What no one would find out until after the fact was that the collision actually broke Eastman's foot. According to Wiedeman, it turned out to be a cracked bone. However, at the time, the sports trainer in the arena taped it up and told Wiedeman, "He can keep on playing."
During his interview with McKee after the game, Eastman, who still did not know the extent of his injury, was blunt: "'It was my last game in a Haddonfield uniform. …. If I'm hurt, I play hurt.'
"That sentence." McKee concluded, "tells you why Haddonfield out-gutted Orange Saturday and lets you know Eastman's honest appraisal of what he means to the team."
In the New York Times's article from Sunday, March 18, 1973, Orange coach Cliff Blake lamented that the game was won and "lost at the foul line." This was indeed a valid observation, as Haddonfield was 24 of 34 at the line compared to Orange, which only got to attempt nine foul shots, making six of them. Still in all, as Dave Wiedeman told me, if Orange had scouted his players and realized the zone was the best option, "There may have been a different outcome" 50 years ago. I like to think, however, that zone or press, Kevin Eastman, Kirby Wood, Chris Whitten, Tom Betley, and Tom Hare, under the direction of Dave Wiedeman, a truly gifted coach, would still have found a way to bring that first state championship home to Haddonfield.
Dawning of a Dynasty
Wayne Grear graduated in 1970, which was 2 years too early to experience Wiedeman's coaching acumen. Wayne was why I started going to Haddonfield basketball games in the late 1960s because he was dating my sister Carol (they've been married since 1974). But in March 1973, he was a junior at Lycoming College in Williamsport, Pa., and hitchhiked to Princeton to see the game. His rationale was that there might never be another chance to see Haddonfield compete in or win a boys basketball state title.
Little did anyone know, the title claimed in Jadwin Gym was just the beginning of a Haddonfield boys basketball dynasty, started by Dave Wiedeman and continued on today by his youngest son Paul. Between the two of them, this father and son duo have coached Haddonfield to 10 state championship games and have won seven of them. And while all seven were exciting and deservedly well-celebrated, nothing quite compares to that first glorious win on St. Patrick's Day 1973. So, on this March 17, raise your favorite beverage and salute that team and its coach for a game that will never be forgotten, no matter how many years may pass by.
Final Thoughts
As I wound up my interviews, I wanted to know what the players took with them from that state championship win and if the skills they honed on the court carried over to their careers. The responses I got were insightful, especially since Eastman was the only player who continued on with a career in basketball after college.
Whitten remarked, "It was a great year of success balanced by hard work." He would go to University of Virginia as an undergrad and would become an anesthesiologist. After working for 15 years in North Carolina, he came back to Virginia, where he worked until he retired. He found this similarity between his high school sport and his career: "Teamwork in the operating room, like basketball, requires everyone to work together."
Wood learned "Preparation pays off. Great coaching pays off. Having Kevin as leader gave us confidence that we always had a good chance to win. I think we all understood our roles and mostly kept our egos in check. Once the playoffs begin, it goes so fast. You barely have time to digest it all." Wood spent most of his career in banking. "I think sports in general prepares you for life. Things don't always go your way, you have to get along with people even if you are not that compatible, and you win or lose as a team. As they say there is no 'I' in 'Team.'"
Betley reflected, "I think we all learned the importance of preparation in any sporting event, and that transcended into life and business. Fred Shero said, 'Win together today, walk together forever.'" Betley says this is so true, pointing out that people still talk about the game (and write about it!). "We, the 12 guys (even the ones I haven't spoken to in years) will always have that bond. The first state championship." Betley continues to use preparedness his job role now, as he has for years. "I work in the Rewards and Recognition industry helping companies (sales employees and customers) improve their performance with rewards outside of cash compensation." What Betley didn't mention, so I will, is how active stayed for decades, working with youth basketball in Haddonfield and coaching AAU ball in the South Jersey area. It's why I call him "Mr. South Jersey Basketball."
Eastman learned the value of teamwork and that hard work does pay off. "You learn it's all about getting the right people on the team who each have a unique but valuable way of contributing to the success. It was my first true lesson of the power of 'team.'" As a coach for his entire professional life (college for 22 years and the NBA for 13 years, including being part of the coaching staff when the Boston Celtics won the World Championship in 2008), Eastman definitely used his basketball background And it has also helped him in his speaking business now, in which he does 50 talks per year. "As I travel the country speaking to sports and corporate teams, many lessons I share were formed from my [basketball] experiences in high school, college, and the NBA."
As for Dave Wiedeman, who finished his high school basketball coaching career with 332 wins, that upset victory over Orange in 1973 remains the most satisfying of them all. He also still takes great pride in knowing he helped bring Haddonfield its first—and 16 years later in 1989, its second—boys basketball state championship.