It's farewell and not good-bye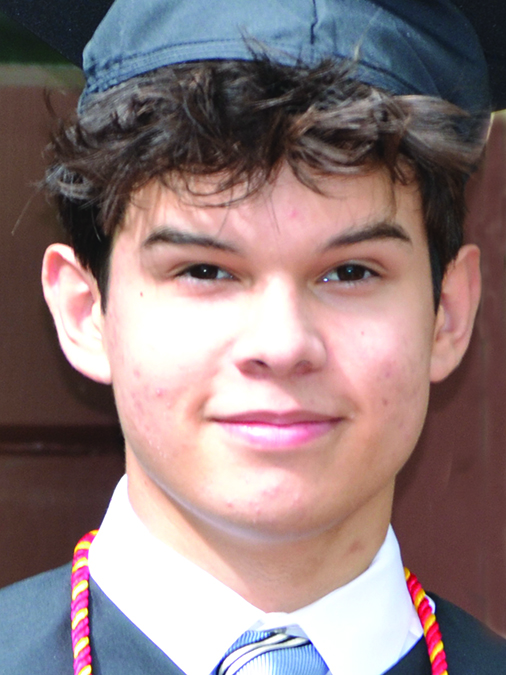 Jack O'Donnell, HMHS Class of 2022 Salutatorian
Good evening, administrators, faculty, family, friends, and my fellow classmates. It is my honor to speak to all of you as the salutatorian of the class of 2022.
My first reaction upon finding out last Friday that I would be giving a speech at graduation was, "I'm glad I took Public Speaking last fall!" My next thought was, "How should I go about writing my last assignment of high school?" I decided to use a couple of problem-solving techniques: 1 – Break it up into smaller parts, so I'll address the different groups here tonight. 2 – Seek advice from experts. I love listening to music, so I've taken inspiration from several famous songwriters.
Then I started to think about teacher songs … Teach Me How to Dougie? Not the right type of teaching. That Van Halen teacher song? Definitely not. Then I remembered that Jimmy Fallon wrote the perfect teacher song during the pandemic. Teachers shouldn't have to pay their taxes/ They should get cheered around the clock / At the bank they should throw money at them / And at Chipotle they should always get free guac. To our teachers, all of them, from preschool through high school, thank you for not just all of the knowledge you've taught us, but also for connecting with us, understanding us, and believing in us. You deserve way more than just free guac for all that you've given us.
Next, our families – brothers, sisters, grandparents, aunts, uncles, cousins, friends who are family. Josh Groban sang it perfectly: You raise me up, so I can stand on mountains/ You raise me up, to walk on stormy seas/ I am strong, when I am on your shoulders/ You raise me up to more than I can be. You've made us who we are. Thank you for the support, motivation, encouragement and love.
To our parents – the previous song certainly applies to you. I couldn't actually find another song good enough for your unconditional love and support these last 18 years, at every game, every show, and every day. So my own simple words will have to do. Thank you from the bottom of our hearts.
Now finally, to the Class of 2022! We're pretty special so I chose two songs for us. As the world-renowned and Grammy winning artist, Baby Keem, eloquently rapped: First order of business, dawg, I gotta thank my mama. It's important for all of us to be grateful for not only our mamas, but our entire families! We wouldn't be sitting here today without them. Let's always remember where we came from.
Second order of business, share the blessings, no more trauma. We've all had hardships that we've had to face: a broken foot, COVID, other serious challenges. We got through those to be here. Let's stay strong and positive to deal with whatever comes in the future.
Third order of business, do good deeds and get good karma. As Baby Keem said, I think it's important to leave the world a better place than how we found it, and I believe that the Class of 2022 has that capability.
I'll leave you with my other song for us, Until the Next Time by the American Celtic punk band out of Boston, Dropkick Murphys. We'll meet again/ Don't know where, don't know when I We all had a good time I And we're sad to see it end/ Good luck be with you I You go your way, I'll go mine/ So until the next time/ It's farewell and not good-bye.
On that note, let's finish strong. Welcome, all, to the graduation of the great HMHS Class of 2022. Have a fantastic evening. Thank you.