Valedictorian: A year like no other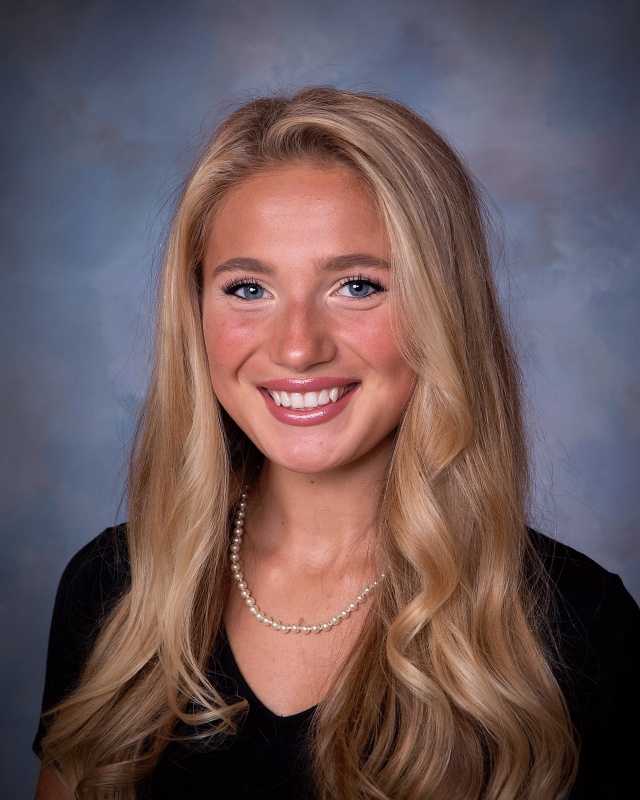 by Olivia Stoner, Haddonfield Memorial High School Class of 2021
Good evening and welcome, families, teachers, administrators, and the esteemed Class of 2021. It is an honor to be speaking before you all today. I would like to begin by saying a few personal thank-you's. To my parents and family, I could never extend enough gratitude to you for your support and sacrifices. I love you all beyond words. Thank you. And I would next like to thank God for His blessings and provision always- all glory to Him. Lastly, I would like to thank our administration and staff for this incredible Commencement Ceremony. Mrs. McHale, Mr. Tarrant, Coach Q, and Mr. Licata, among others, you have worked tirelessly this past year to bring our senior class a sense of normalcy. Who would have thought, mere months ago, that this magnitude of a graduation would be feasible? I speak for everyone when I say thank you for your creativity, patience, and foresight in a year like no other.
Now, I would like to extend my congratulations to you all, Class of 2021. High school has truly been four years to remember. I have nothing but the utmost respect for all of you for your strength, endurance, and grace. Without going into detail, I think it's safe to say that Clint Eastwood's famous "improvise, adapt, and overcome" quote could very well have been the mantra of our senior class.
Looking out at all of you, I cannot help but reminisce. I remember the days back in elementary school when we all stealthily traded Silly Bands and fought against the infamous title of "Man on Ground." I remember belting the Lizzy Haddon anthem together in the APR and comparing Justice graphic tees with each other during indoor recess. A few days ago, I had a similar feeling of nostalgia when cleaning out my room. Among the dusty HYBA participation trophies and old race bibs was a toy that reminded me of quite the formative phase in my life, and probably in the lives of many here- the American Girl Doll.
This particular toy and phase of my life were certainly memorable, as these dolls were my creative outlet. Through them, I could present tales of princesses, Spartans, and scholars all on my makeshift bedroom desk stage. I could learn how to sew costumes and braid hair, albeit on a much smaller, doll-sized scale. However, the conclusion of this toy obsession is an even more vibrant memory for me. One day, after pulling my dolls out to play, something just felt off. I no longer experienced the rush of excitement that usually ensued. In fact, I did not feel much at all, other than the urge to put my dolls back and go do something else. Frustrated by my inability to care for these dolls that had once been such an integral part of my life, I began to cry. I cried for the end of my American Girl Doll experience, and for how much of my money I had wasted on those unreasonably-priced doll accessories, but even more so, I cried because of my fear of growing up. I thought that outgrowing this phase meant that I was slowly inching towards adulthood. To me, adulthood was a large and confusing word that most closely meant the end of my child-like sense of wonder. I thought growing up and nurturing my creative interests were mutually exclusive, and I was grieving the loss of something that had brought me so much joy.
What I offer to you, Class of 2021, is the perspective I wish I had at seven years old as I was going through that American-Girl-Doll-existential crisis. What I did not anticipate was that after I put my dolls down, I soon picked up a needle and thread, making human-sized clothes this time rather than the former doll-sized ones. My imagination kept its fervor, but it took on a different, more exciting form.
Yes, today marks the end of quite the formative phase for all of us- tomorrow, we will wake up as high school graduates, anticipating jobs, higher education, traveling, or other endeavors. We will no longer call this school's campus our home. But the exciting news is that our imaginations and passions do not end here; rather, we now get the opportunity to take them out onto a larger stage. We get to play with bigger, better, and far cooler toys and do so for a larger audience than we could have possibly imagined in our childhood bedrooms. Though I no longer play with dolls, I look forward to employing the same creativity I used to design clothes and costumes to someday design prosthetic limbs. Perhaps the same rush you got while playing Minecraft can be used to code the next generation's video game experience. You may no longer decorate the hallways for Spirit Week, but perhaps you will thrive as an interior designer in a few years' time. The same care you extended to freshmen as a Peer Leader can someday reach thousands of patients as a nurse or doctor.
Class of 2021, throughout our years here in Haddonfield, we have found the things we get most excited about. We know the topics that light up our eyes in conversations, the activities we lose track of time while doing, the interests we could spend hours down a Youtube rabbit-hole to learn about. So, although this day is sobering, marking the end of this formative phase, I am so excited for each of us to explore our interests on a larger scale. Perhaps this will later be your job, or maybe it just manifests as a side hobby, but either way, I implore you all to keep exploring the things that spark joy, keeping that child-like sense of wonder and imagination alive. My wish for each of you is that you continue to reach bigger and better stages, but always remember to bring your inner child along for the ride. Congratulations, Class of 2021!