Life is like a parking lot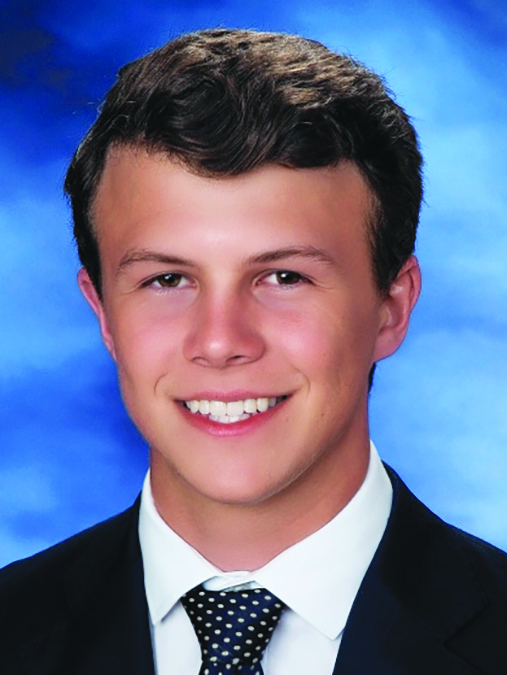 Charlie Webb, HMHS Class of 2023
Welcome to the graduation of the class of 2023. On behalf of the class, I would like to thank all the people who have made today possible.
Thank you to all the incredible teachers who have done an amazing job guiding and educating the class of 2023.
Thank you to the administrators who have allowed every student to thrive – even during the pandemic that shall not be named. Especially Mrs. McHale; I'm sure our parents would agree how difficult it is to deal with 219 seniors every day, and you do an excellent job. Thank you to my friends who always keep things interesting.
Thank you to all parents and guardians for your unwavering support from day one, we wouldn't be here without you.
And finally, I personally want to thank my constant companion in the Haddonfield school system, number 2300239. Since elementary school, my student ID has logged me into my email, the lunch line, the library, the big dusty computers in the Tatem computer lab, and many other places in the district. Now here at graduation I will depart from it. It's also my lifelong social media password, so I should probably change some of those passwords too. I remember the first time I learned that the 23 at the start of that code represented my graduation year. At the time, I couldn't even count that many years away on my fingers, and now, today, along with all my other fellow 23-ID-number friends we will graduate.
Thank you to the class of twenty twenty three for the most memorable four years of high school. These are years that I will never forget for, well, mostly good reasons.
Now, as I reflect on our high school experience, I immediately think of the Bancroft parking lot, the big gravel lot, which has recently been infested by a dangerous species, high school drivers. One of the most prominent features of the Bancroft lot is the iconic gravel, which you might not know is more than a little bumpy. Well, the class of 2023 has also had to get over its fair share of humps. But throughout all the bumps, this class has proved that we are able to battle adversity and support one another to make every situation a positive one. Just like when you're on a delayed JetBlue flight to Disney and your friends encourage you to use the bathroom when the flight attendants told you not to. Sometimes we hit bumps at 7:55 on those crazy mornings where the spots in the Bancroft lot are highly contested, but every morning we make room for one another to create ridiculous parking spots. Our class is always willing to make adjustments to help each other out, and we also owe Mrs. Abbate, Mrs. Wilson, Mrs. Murphy, and Mrs. Russell, for always having our backs by buzzing us into school and giving us late passes.
Sometimes, whether you're in a ridiculous parking spot or not, accidents happen in the Bancroft lot. Accidents as we know, come in all different shapes and sizes. Sometimes all it takes is a piece of band chocolate from a friend or a pretzel on pretzel Thursday to cheer you up, and other times, accidents are a little bigger, like passing out at the blood drive or hitting multiple cars in the parking lot at once. Despite having had a few accidents throughout these four years, we have been able to learn and grow from them to accomplish incredible things. Like, the wrestling team and the boy's lacrosse team winning their first sectional championship in both their programs histories, both boys and girls swimming who earned the state title every year, the very talented girls lacrosse team who also brought home multiple state championships, and the list goes on for this very athletic group. This grade has also thrived on stage with, drama awards for Cinderella and Head Over Heels, vocal performance awards for Madrigal singers, and instrumental awards for talented musicians. Maybe in the future we'll learn to watch out for each other's cars a little bit better, but hey, they're called accidents for a reason.
The Bancroft parking lot is filled with many different cars, each unique in their own way. As I look around at all my classmates tonight, it is clear that we are a collection of unique individuals. Some cars like to rev their engines a lot, others like to stay a little quieter, some cars are decked out in bumper stickers proudly representing their beliefs, others prefer to keep their beliefs to themselves, some cars are a bright color that stand out in a crowd, others like to blend in; however, the beauty of the lot is that throughout the past year and a half a community has been built in that beautiful, dusty location.
And that's the best part of our grade, no matter where we are; in every class, during sports, on the stage, or anywhere outside of school, the sense of community built by this class can be seen. This class has not defined itself by their plans for after graduation, but by our character and bonds created throughout our four years at HMHS. And also of course our ability to make a great parking lot. This grade has become a family that is able to support one another to prosper in all areas, while also having fun. And yes, we can have fun without breaking any bathrooms. Like Mr. Tarrant once said, "once a dawg, always a dawg," and I couldn't be prouder to call myself a part of the HMHS class of 2023 for the rest of my life. I can't wait to see the incredible things you all accomplish. It has been a pleasure spending these past years with all of you, there aren't many other grades I would be willing to run for class president four times and lose Every. Single. Time. I can't express how much I'll miss saying hello to all of you in the halls or honking my horn in the parking lot.
So for now, 2300239 out.