Charles A. Sayre, revered pastor, dies at age 100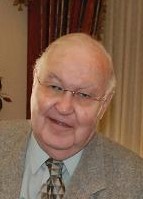 The Reverend Dr. Charles A. Sayre, the senior pastor at Haddonfield United Methodist Church from 1965 to 1990, died peacefully at home on Monday, August 10, 2020. He was 100.
He was revered not just by the church's congregation but also by thousands of residents of Camden, where he planted and nurtured numerous seeds, and by fellow members of the Rotary Club of Haddonfield, of which he had been a devoted member for 55 years.
In a note to members of the congregation on August 11, The Reverend Chris Heckert wrote:
"It is with a sense of profound loss that I share that Rev. Dr. Charles Sayre passed away of natural causes, surrounded by his family, and entered into God's eternal rest yesterday, August 10th. Rev. Dr. Sayre served as the Sr. Pastor for 25 years, from 1965-1990. In that time he had a massive impact for the witness of Jesus Christ in our church, community and greater world, in helping people to live into the kingdom of God, on earth, as it is in heaven. Under his leadership, HUMC grew exponentially, and expanded its mission and ministry into Camden with the founding of Respond, Inc. Beyond the local church, he was a leader in the United Methodist Church worldwide, as he was elected to the Methodist World Council, and served as the lead clergy delegate to the General Conference for 8 quadrennia. Upon his retirement he remained an active resident of Haddonfield as an influential friend, leader, Rotarian, and mentor to countless people. On April 19th, 2020, he celebrated his 100th birthday, remarking how blessed and happy he was to be surrounded by loving friends and family via Zoom.
"Although we grieve his loss, may we share the profound gratitude that Dr. Sayre held in his heart. During both of my visits with him this past week, he reiterated how thankful he was for his life, for his loving family, and for this church community. Just this past Sunday he listened to our worship service online and shared with me afterward that he believed that serving Haddonfield UMC is the best job in Methodism. For each life that has been touched, inspired, blessed and enriched by the ministry and witness of Rev. Dr. Charles Sayre, we now carry his mission of leading others to follow Jesus Christ within our hearts and our lives.
"During this time I ask that you keep his daughters Jill, Judy, and their entire family in your prayers. A graveside service will be private for family only, but we will share plans for public celebration of his life at a later date as they develop. Gifts in his memory may be sent to the church with "In memory of Charles Sayre" in the memo line, or an accompanying note. Gifts made in his memory will benefit the Lucile B. Sayre Meditation Garden across from the church.
"One of Dr. Sayre's favorite hymns of faith was "It is Well with my Soul," which offers these words of comfort:
When peace like a river, attendeth my way,
When sorrows like sea billows roll
Whatever my lot, thou hast taught me to say
It is well, it is well, with my soul
It is well
With my soul
It is well, it is well with my soul
"Because a life lived for others has now transitioned into God's eternal, loving embrace, may we find God's comfort and peace. Because of Dr. Sayre's leadership, loving heart and friendship to many, may we say now, 'it is well with my soul.'"