Giraffe sculpture gets a name!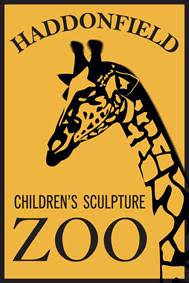 The 15-foot tall sculpture of a giraffe, installed by Haddonfield Outdoor Sculpture Trust in the Tatem Memorial Garden on May 6, 2020, now has a name … Tumaini. ("Tumi" for short.)
Selected from more than 200 entries received by the closing date of May 31, the winning name was submitted by Elizabeth Asher, 11, a sixth grade student at Haddonfield Middle School. Tumaini means "hope" in Swahili. The contest judges said they felt that word was particularly appropriate, in these challenging times.
The name submitted by another sixth-grader, Lilah Mallemat, 11, was chosen as the runner-up: Peanut Butter.
Elizabeth will receive a family package of four tickets to the Philadelphia Zoo; Lilah will receive a five-foot stuffed giraffe.
The prizes will be presented, and the name will be officially announced, at 10am on Friday, June 12 at the Children's Sculpture Zoo (within Tatem Memorial Garden, at the corner of Kings Highway East and Evergreen Lane).
RELATED STORY: Giraffe sculpture arrives in Haddonfield