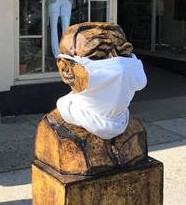 Statues in downtown Haddonfield are now protecting themselves and others from the spread of COVID-19. One example: "Stanley the Witness," at 137 Kings Highway East.
Stuart Harting, founder and chair of the Haddonfield Outdoor Sculpture Trust (HOST), which has placed more than two dozen sculptures around the town, has outfitted a number of sculptures with protective masks. In addition to "Stanley" … "The Mailman," outside the Post Office, and "Steadfast and Loyal," at 116 Kings Highway East.
Check them out … from a safe distance.