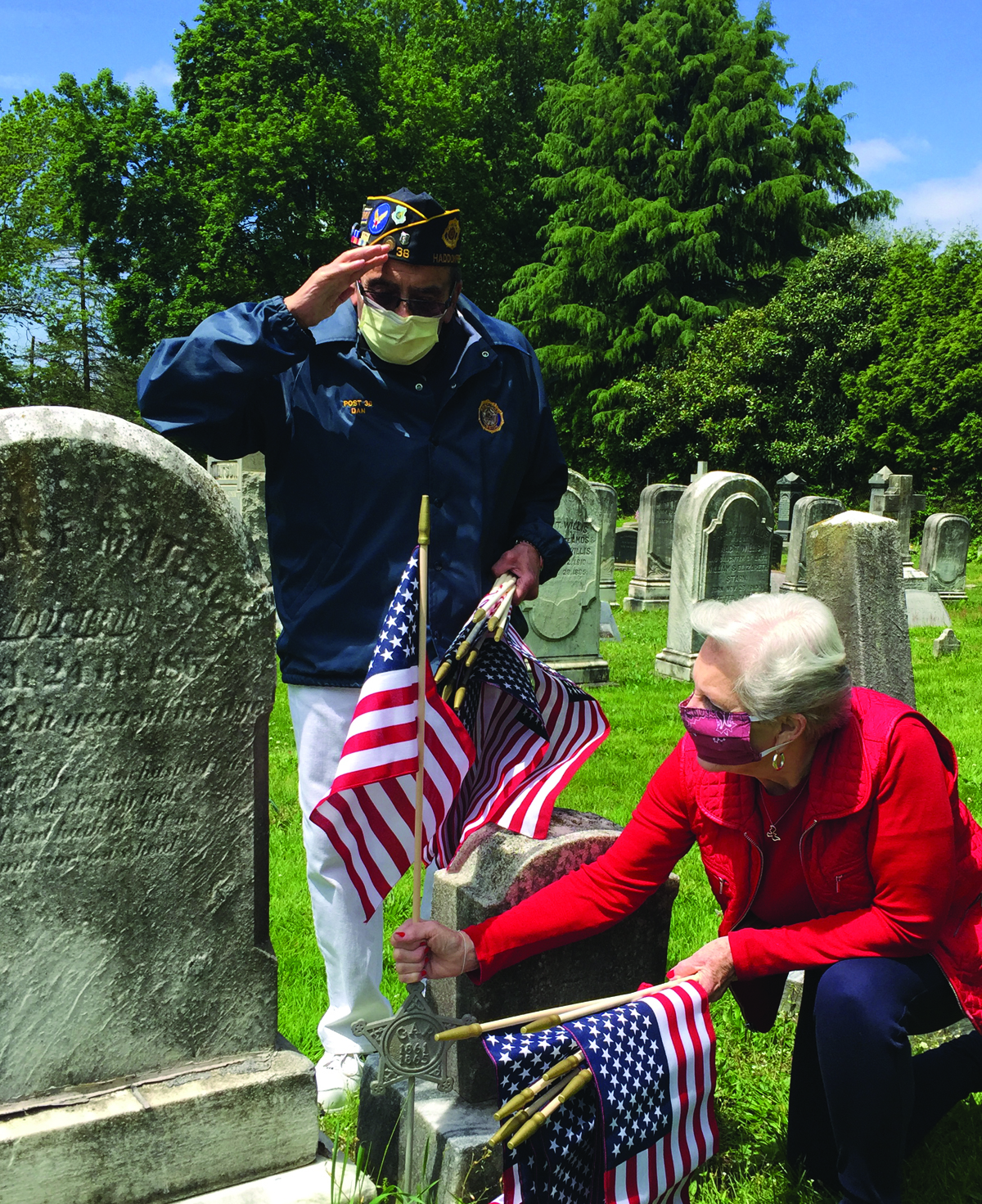 Photo: Dan Colombi (U.S. Air Force, Vietnam) and former mayor Tish Colombi at the Baptist Cemetery.
Memorial Day in Haddonfield typically is marked by a number of events:
On the Friday before Memorial Day, an assembly at Memorial High School that includes participation by members of Post 38. With all schools closed in compliance with Gov. Phil Murphy's executive orders relating to the coronavirus pandemic, that event was canceled. Even so, members of the HMHS Student Council produced a ten-minute video to mark Memorial Day 2020. Link to it HERE.
The dressing of graves (i.e. the placing of American flags) of men and women who served in the Armed Forces, in the Baptist and Methodist cemeteries. Usually, this is done on the Friday before Memorial Day. This year, rain forced a postponement to today (Sunday, May 24).
A breakfast for Legionnaires and invited guests at the Post 38 headquarters on Veterans Lane. This year, that popular event has been canceled.
The raising and lowering of the American flag at Post 38 HQ, and the tolling of a bell — once for each member of the Post who died during the past twelve months. A modified form of this ceremony will take place tomorrow (Monday, May 25) at 9am.
A parade on Kings Highway, from the Presbyterian Church to the High School. This year, that event has been canceled.
A ceremony at the War Memorial at the front of the High School. Canceled.
Memorial Day this year was to have featured a display of 3,837 poppies, cascading from the wall of the school building behind the war memorial, in tribute to fallen New Jersey service members of World War I. That installation has been postponed to October. Details HERE.
At 3pm, members of the brass section of the Haddonfield Pick-Up Band will join with trumpeters and buglers across the country to play Taps on front porches, in a salute to members of the U.S. Armed Forces who died in America's wars. Read details of Taps for Veterans HERE.
Pick-Up Band member Tom Reiter plans to play at the corner of West End Avenue and Euclid, in tribute to Tom Patton, founder and longtime director of the Pick-Up Band — and Legionnaire (U.S. Army WWII) — who died in June 2019.
This Haddonfield Today news story sponsored by Jack and Barbara Tarditi, and Conner Strong & Buckelew Insurance & Risk Management.