Review of Boys Basketball, 2019-20 (1)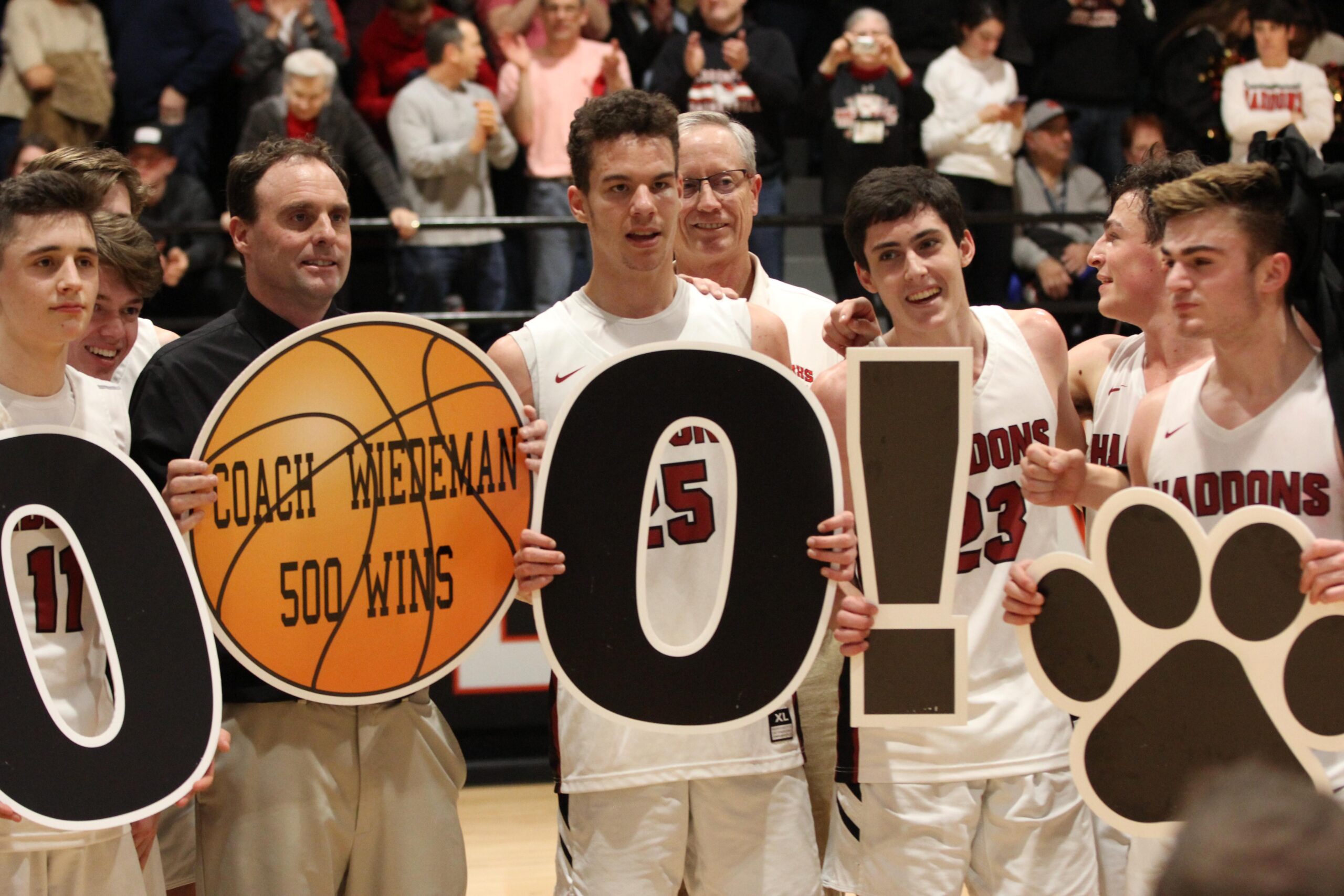 Lauree Padgett, the Number One fan of Haddonfield boys' basketball, has filed her review of the 2019-20 season, for publication exclusively by Haddonfield Today.
Celebrating Coach Paul Wiedeman's 500th win: Tommy Mooney, Aiden Bell, Coach Wiedeman, Ben Cerrato, Assistant Coach Brian Stafford, Andrew Gostovich, Steve McClane, Connor Fell. Photograph courtesy of Tom Kadar.
Dawgs Hit the Heights
By Lauree Padgett for Haddonfield Today
Part 1 of 5: Eye on the Goal
Basketball is never far from my mind, even in the nine long months between mid-March and mid-December. However, on Thanksgiving Day 2019 at the traditional Haddonfield-Haddon Heights gridiron matchup (which hasn't been much of a contest recently), I wasn't thinking about hoops as I watched the Red and Black start pulling away from the Garnet and Gold. However, when the Dawgs' lead was becoming insurmountable, two Heights fans a few rows behind me decided to look ahead to, and apparently take some solace in, the upcoming winter sports season.
Said one Garnet fan to the other, "Well, at least Haddonfield won't be much of a threat in basketball this season," alluding to the fact that almost all the players who had taken the team to back-to-back state titles in 2018 and 2019 had graduated. "Yes," was the reply, "Heights, Sterling, and West Deptford are going to be the teams to beat in the conference this year."
After hearing this assessment, but without turning around, I said in a loud voice, "Never underestimate a team coached by Paul Wiedeman." I'm not sure they took my warning seriously then, but three-plus-months later, I wondered if my words came back to haunt them.
Dawgs in the Hunt
But it wasn't just two guys from Heights who weren't giving the Dawgs much of a chance in the upcoming season. In the Inquirer's preseason South Jersey boys basketball poll, the Dawgs didn't even make the "Under Consideration" section. That changed within the first few games, and then on January 14, Haddonfield broke through to the No. 10 position, sporting a 7-1 record. Keeper of the Top 10, Phil Anastasia, noted, "Remember Haddonfield? … Haddonfield, which in 2019 won its second straight state title, … landed in the Top 10 for the first time this season, courtesy of a six-game winning streak that includes dramatic victories over Colonial Conference rivals Haddon Heights and West Deptford." For the rest of the season, the Dawgs stayed in the Inquirer Top 10, going as high as the 5th spot on February 11, when they were 18–2, and finishing their 25–5 season back at No. 10.
Schedule Results — Overall Record: 25–5
Colonial Conference: 15-1
12.20.19: Dawgs beat Collingswood 37–30
01.03.20: Dawgs beat Haddon Heights 39–38
01.06.20: Dawgs beat Audubon 66–33
01.08.20: Dawgs beat West Deptford 41–39 in OT
01.14.20: Dawgs beat Sterling 55–43
01.16.20: Dawgs beat Woodbury 57–40
01.21.20: Dawgs beat Haddon Township 44–26
01.23.20: Dawgs beat Gateway 74–33
01.28.20: Dawgs beat Paulsboro 52–44
01.30.20: Dawgs beat Overbrook 46–33
02.04.20: Dawgs beat Lindenwold 63–49
02.06.20: Dawgs beat Collingswood 62–31
02.11.20: Dawgs lose to Haddon Heights 30–37
02.12.30: Dawgs beat Audubon 65-49
02.18.20: Dawgs beat West Deptford 50–42
02.20.20: Dawgs beat Sterling 43–40
Nonleague: 7-3
12.21.19: Dawgs lose to Timber Creek 49–59
12.27.19: Dawgs beat Egg Harbor Township 49–39
12.28.19: Dawgs beat Woodrow Wilson 68–35
01.05.20: Dawgs beat Ocean City 46–21
01.18.30: Dawgs beat Millville 60–39
01.25.20: Dawgs defeat Highland Regional 63–41
02.01.20: Dawgs lose to Moorestown 25–27
02.08/20: Dawgs beat Rancocas Valley Regional 53–35
02.25.20: Dawgs beat BCIT–Westampton 41–36
02.27.20: Dawgs lose to Burlington Township 48–52
South Jersey Group 2 Playoffs: 3-1
03.03.20: Round 1: Dawgs beat Pennsauken Tech 37–21
03.05.20: Quarter-finals: Dawgs beat Point Pleasant Boro 53–28
03.07.20: Semi-finals: Dawgs beat Haddon Heights
03.10.20: Finals: Dawgs lose to Camden 42–70
Many of those 25 wins were noteworthy, some for milestones, not just the victories themselves. Even so, I'm going to zip through many of those games, often borrowing from my Facebook post-game synopses even for the ones I give more ink too, but I particularly want to highlight a trio of contests – coincidentally all against the same team, if that isn't too big a hint – that showcased the Dawgs' tenacity and ability to never give up and to bounce back after tough defeats.
A New-Look Team
It's always a bit of a challenge for me to get back into reporter mode at the start of any season. Admittedly, it was great to be back home again in the boys gym — although I will always have a soft spot in my heart for the Cougars' gym at Cherry Hill East, where the Dawgs, on their borrowed home turf, went undefeated over two seasons. But even though I was back in "my" seat, I was missing some familiar faces on the court and in the stands.
What's more, I was having some trouble keeping track of all the new starters and first guys off the bench. Who was number 11? Was that Steve McClane? Or Tommy Mooney? Usually, there are a few new uniform numbers to memorize, but this year, the only returning player with deep varsity minutes was senior Ben Cerrato, #25. Seniors Connor Fell, #2, and Andrew Gostovich, #23, had come in off the bench a lot the prior season, and I had caught them in JV games, and #22, Justin Kasko, looked familiar. Oh, and #33, Alex Kadar, was back on the team! But for the first several games, I was flipping back to the roster Coach Paul Wiedeman had provided me in mid-December more often than not to keep who was who straight in my mind – and on my notepad!
First up was not a home game, though, it was Collingswood away. I got an appreciated ride from my travel buddies Vic and Lynne Wiedeman, as December 20 was a pretty cold night! But it proved to be hot in the gym. Even with a vastly different lineup than the year before, the Dawgs didn't have too much trouble keeping the Panthers at bay, and they won by 7, 37-30. So, for a team not expected to be a Colonial Conference contender, the Dawgs were off to a good start! In fact, the Dawgs, who, did I mention, were not expected to be one of the top teams in the conference, won their first 12 games against their Colonial advisories. Their only loss in what would end up being a 15-1 run through the conference would be to … well, more on that later.
The Dawgs Get on a Roll and Keep on Going
After that good start versus Collingswood, the Dawgs faltered a bit in the second game of the season, losing to Timber Creek by 10, 49-59. But they won both games they played in the Haddons Invitational, first defeating Egg Harbor Township by 10, 59-49, then making mincemeat out of Woodrow Wilson, putting 30-plus more points on the board than their opponent, handily winning 68-36.
Haddonfield vs. Haddon Heights, Round 1: January 3 at Haddon Heights
Then it was time for another conference game, another away matchup, this time at Haddon Heights, on January 3, the first of the New Year. Because I was going to try to watch some of the JV game (I had a vested interest; more on that later) and arrived quite a bit ahead of the 7pm varsity start time, I was not expecting to have trouble parking. However, I ended up way past the football field on First Avenue. When I got inside, I looked for a spot with some Haddonfield fans, and although it wasn't behind our boys' bench, where I usually try to sit for most away games, I took a seat. A bit later, I was very happy to be at this locale, as none other than Dyl Heine and Lew Evans, 2019 Dawg alums home for the holidays, who had come to cheer on their team and one of their biggest rivals, ended up directly in front of me.
This is what I had this to say in my Facebook post after the game:
Dawg Update: Well, there were 2:10 minutes left in the game. Haddonfield, at Heights, was down 10 points. And then 7, then 4, then 1, and then we went up 1! Final score, 39-38, Dawgs!! Whoop, whoop, whoop!!!
While short and sweet, covering the major details, as the first of Haddonfield's three battles against Haddon Heights, the game deserves a bit more detail here, even though the first 29 minutes, there was not a lot for Dyl, Lew, and the rest of us to actually cheer about.
The Dawgs did get the first bucket of the game, a nice drive by sophomore Tommy Mooney after neither team had scored during its first possession. However, the Garnets would get the next 7 points on three 2's and then a foul shot, and with just under 2 minutes left in quarter 1, the Dawgs were trailing 2-7. Ben Cerrato got his first points of the New Year on a trey to make it a 5-7 game, but Heights would get the last basket of the quarter and take a 9-5 lead into the second quarter.
In those next 8 minutes, the Dawgs got more points on the board, thanks to a pair of 3's by Andrew Gostovich (aka Gos) and one by senior Steve McClane. Meanwhile, Heights got fewer, so going into the half, the Dawgs were only down a bucket, 14-16. I was feeling optimistic as the teams left the court, as often last year, the third quarter was when the Dawgs would kick up the offense and defense.
However, the Garnets came out determined not to give the Dawgs that chance. They hit two 3's and a 2 in the first 80 seconds of the second half to take a double-digit, 24-14, lead. Not surprisingly, Paul Wiedeman called a timeout. A foul on the Garnets off a Haddonfield inbound sent McClane to the foul line. He made both shots to briefly get the Dawgs to within 8, 16-24. I say "briefly" because Heights came back with a 2 and a 3 to go up by 13, 29-16 at the 4:59 mark.
A nice maneuver in the paint by Cerrato made it 18-29, and a failed hot-shot attempt at a slam by Heights kept it an 11-point Garnet advantage. McClane set up the next score by Haddonfield by hustling for a jump ball that favored Haddonfield, and with 2:13 to go in the quarter, he hit a 2-point bunker to cut the Dawgs' deficit to 9, 20-29. Heights answered with yet another 3 to push the lead back to double digits, 31-20. But just ahead of the buzzer, Cerrato picked off the ball and went in for 2, so the third quarter ended with the Dawgs down by 9, 31-22.
The last 8 minutes of the game did not begin well if you were rooting for the visitors, as the home team promptly nailed a 3, giving the Garnets a 12-point, 34-22, lead. The Dawgs didn't get their first points of the quarter until after a few more trips up and down the court, but they were off a 3 from Gos and came off an inbound pass, making it 25-34, Heights. A steal by senior Alex Kadar set up a 3 from Cerrato, and suddenly the Dawgs were making inroads, closing the gap to 28-34 with 5 and change left in the game. In the stands, the Dawg fans were beginning to make some noise.
Heights was called for a travel with 5:07 to go, but Haddonfield could not capitalize on it. A wild hot potato loose ball ended up in Heights' possession, but to no avail, as the Garnets lost it out of bounds. After the Dawgs failed to score, Heights managed to get three offensive boards, succeeding after the third one to get the ball in the basket. Although the field goal resulted in a foul on the Dawgs, Heights couldn't convert at the line, and with just under 4 minutes to go, the Dawgs were behind by 8, 28-36.
A blocked shot gave the ball back to the Garnets, who parleyed that into another basket, but again missed the ensuing foul shot. Still, their lead was back to double-digits, 38-28, with 3:31 on the clock. A turnover off a bad pass gave the Garnets back the ball, but after a missed shot, there was no second-chance basket, as Gostovich grabbed the rebound. An official timeout was called at 2:44 after an injured Haddon Heights player had to leave the court. Haddonfield missed another basket, but McClane stole the ball, which ended up going out of bounds off Heights, and with 2:11 remaining in the game, the Dawgs were still down by 10. As I waited for play to resume, I had the fleeting thought of the Dawgs being down by double-digits in the 2019 South Jersey Group 2 final against Camden with about the same amount of time remaining. Would this current crop of Dawgs players remember and use that game as a "bench"mark about how to never give up?
They would! Mooney started this comeback with a 3, and with 1:53 showing on the clock the Dawgs were down by 7, 31-38. McClane, who had a big game at both ends of the court, swiped the ball again, and Heights answered with a foul. The Dawgs kept getting the offensive rebound after their shots weren't going in, and finally, the Garnets got a foul called that sent Cerrato to the line. He uncharacteristically missed both shots, but Gostovich picked him up by grabbing the offensive board and swooshing in a 3, to make it a 4-point, 34-38 game with about 80 seconds left. Suddenly, the Dawgs and Heights were in a battle.
With 1:06 left in the game, Wiedeman called a timeout. If it was the play he set up, it worked brilliantly, as after passing the ball around and around, whittling about 30 seconds off the clock, McClane, in the corner, let the ball fly. It arched up … and in! With 33 seconds left, the Dawgs were back to within 1, 37-38. In the stands, I jumped up and down and used the heads of Heine and Evans to show my excitement by (lightly) pounding on them.
This turn of events prompted a Heights timeout with 33 seconds on the clock. The Dawgs were trying to press with tight D at the other end of the court, but pressed a little too tightly and were charged with a foul. With 22.5 seconds remaining, Heights had two chances to add to its total, and missed both. With a huge assist from McClane, Cerrato went up and in for 2 with 14.9 on the clock, putting the Dawgs up, 39-38, for the first time since the first basket of the game by Mooney. The Dawg fans went wild (and no, I did not give either Dyl or Lew a concussion with more head banging). Heights called another timeout. The Dawgs stole the ball back, and Cerrato found himself back on the line for a 1+1. The ball did not drop in, but with 5.8 seconds to go, Heights let the clock run down before attempting its final shot of the game. It did not go in the rim and the buzzer sounded. Haddonfield had done it again, perhaps not in the same venue, but all the same, this group of players pulled off an upset that would foreshadow just what this team, not predicted to do much, could actually accomplish with hard work, self-determination, and the best high school coaching staff this side of the Delaware. (Maybe even the Mississippi.)
Ben Cerrato finished with 14, Andrew Gostovich with 12. In the final 8 minutes, the Dawgs put 17 on the board, thanks to five treys and a 2, and held the Garnets to 7 points.
PART 2 of 5 will be published on Tuesday, August 4.